Dental Soft Tissue Regeneration Market Analysis, Size, Trends | Europe | 2020-2026 | COVID19 | MedCore
Year:

2020

Scope:

2016-2026

Region:

Europe

Pages:

40

Published Date:

06/26/2020

Type:

MedCore
In 2020, the European dental soft tissue regeneration market size was valued at €7.3 million, there were over 50,000 dental soft tissue procedures performed. Depending on the severity of COVID19 impact, the market size is expected to increase and reach somewhere between €8.5 and €9.9 million in 2026.
Throughout this medical market research, we analyzed 5 dental soft tissue companies across Europe and used our comprehensive methodology to understand the market sizes, unit sales, company market shares, and to create accurate forecasts.
Our analysts meticulously research for up to 3 to 4 months to put together one suite of reports, a MedSuite, which is a comprehensive analysis of a group of healthcare markets. A MedCore is one portion of that analysis that focuses on one market segment and provides further detailed segmentation to get a much more granular set of market data.
Data Types Included in This MedCore
Unit Sales, Average Selling Prices, Market Value & Growth Trends
Market Forecasts Until 2026, and Historical Data to 2016
COVID19 Impact On the European Soft Tissue Regeneration Market
Market Drivers & Limiters for Dental Soft Tissue Regeneration market
Competitive Analysis with Market Shares for the EU Market
Dental Soft Tissue Regeneration Procedure Volumes
Market Value and Industry Trends
The market for dental soft tissue regeneration consists of xenografts and allografts. Dentists mostly use soft tissue regenerative products for root coverage and ridge augmentation. Compared to other soft tissue reinforcement and regeneration markets, such as breast reconstruction and hernia repair, dental regenerative biologic matrices have not been on the European market for very long.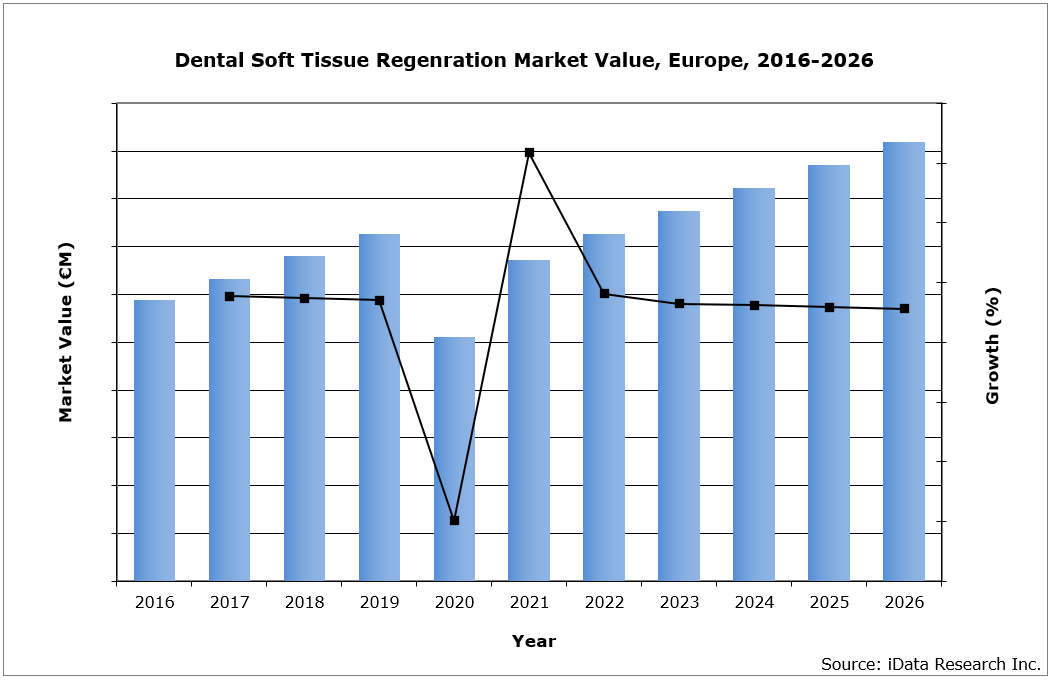 The vast majority of unit sales were xenograft products produced by Geistlich and Botiss, and the remainder consisted mostly of AlloDerm®, which is distributed by BioHorizons. Even if regulations surrounding the use of human tissue for soft tissue regeneration impede sales of these types of products throughout Europe, within the dental indication specifically, the regulatory hurdles are slightly less pronounced.
Some dentists in this market are using these devices to increase biotype and soft tissue thickness around implants. The number of dental regenerative matrix units sold is partly correlated with the number of dental implant procedures in a given country. This explains why, population differences aside, unit sales in Germany and Italy were slightly higher than in France, and significantly higher than in the United Kingdom. The main indication of these biological matrices is recession coverage and, in general, for the generation of additional gingival tissue.
Competitive Analysis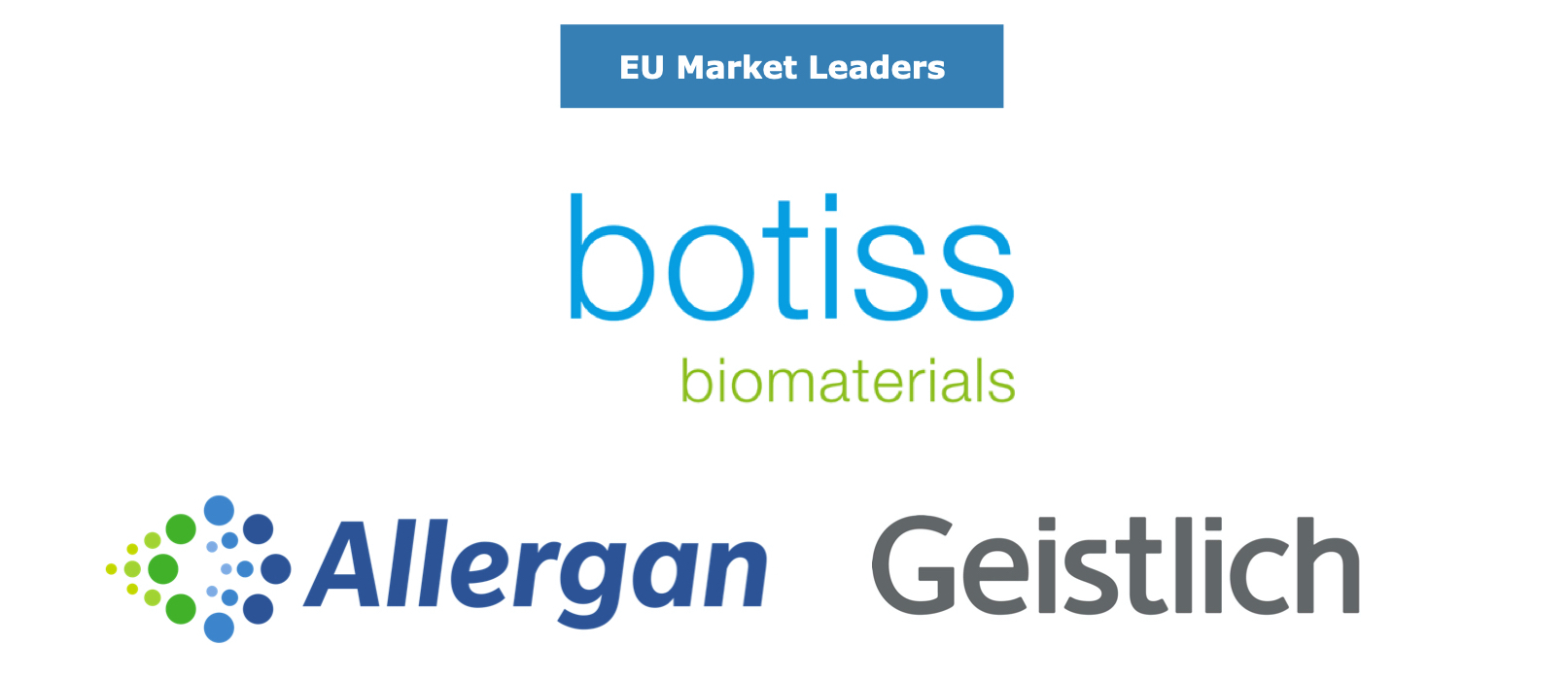 By 2020, the leading player in the European dental soft tissue regeneration market was Botiss Biomaterials. Due to cost-effectiveness of their flagship dental regenerative matrix product, Mucoderm®, the company was quickly able to capture a large portion of the European market. In July 2016, Botiss Biomaterials continued to develop its strategic partnership with Straumann by expanding Straumann's exclusive distribution of Botiss products to the German market. The partnership is set to benefit Botiss through tapping into Straumann's dental implant clients, making both companies a one-stop-shop for all implant-related procedure needs.
Geistlich was the second leading competitor in the European dental soft tissue market by 2020. With their Mucograft® product, the company directly competes with Botiss's Mucoderm®. Even though their product has set the standard for dental soft tissue regeneration in the past, the company has recently been losing shares to newer products introduced by Botiss.
The third key competitor in the European market was Allergan with their leading acellular dermal matrix, AlloDerm®. The product has been used in dentistry since 1994 and is backed by the largest body of long-term peer-reviewed clinical data out of any soft tissue regenerative product. In 2020, AbbVie acquired Allergan, thereby inheriting its rights to AlloDerm®.
REPORT REGIONAL COVERAGE
Throughout this research series, iData Research has covered several countries in great detail. Each country may be purchased as a stand-alone report, tailoring the data to your needs. The countries covered are:
Germany
France
U.K.
Italy
Spain
Benelux (Belgium, Netherlands, and Luxembourg)
Switzerland
Austria
DON'T SEE THE SEGMENT OR DATA YOU NEED?
Feel free to contact us or send a request by pressing one of the buttons below.

Table of Contents for the European Dental Soft Tissue Regeneration Market Report Suite
TABLE OF CONTENTS ILIST OF FIGURES IIILIST OF CHARTS IVRESEARCH METHODOLOGY 1Step 1: Project Initiation & Team Selection 1Step 2: Prepare Data Systems and Perform Secondary Research 4Step 3: Preparation for Interviews & Questionnaire Design 5Step 4: Performing Primary Research 6Step 5: Research Analysis: Establishing Baseline Estimates 8Step 6: Market Forecast and Analysis 9Step 7: Identify Strategic Opportunities 11Step 8: Final Review and Market Release 12Step 9: Customer Feedback and Market Monitoring 13
PROCEDURE NUMBERS 14
IMPACT OF COVID-19 ON THE EUROPE DENTAL SOFT TISSUE REGENERATION MARKET 17
3.1 INTRODUCTION 173.2 MULTI-SCENARIO ANALYSIS 18
EUROPE DENTAL SOFT TISSUE REGENERATION MARKET
4.1 INTRODUCTION 214.2 MARKET ANALYSIS AND FORECAST 234.3 DRIVERS AND LIMITERS 324.3.1 Market Drivers 324.3.2 Market Limiters 334.4 COMPETITIVE MARKET SHARE ANALYSIS 36
ABBREVIATIONS
The Dental Soft Tissue Regeneration Market Report Suite | Europe | 2020-2026 | MedSuite includes analysis on the following companies currently active in this market: • Botiss Biomaterials • Geistlich • Allergan • Orthocell • Zimmer Biomet
iData's 9-Step Research Methodology
Our reports follow an in-depth 9-step methodology which focuses on the following research systems:
Original primary research that consists of the most up-to-date market data
Strong foundation of quantitative and qualitative research
Focused on the needs and strategic challenges of the industry participants
Step 1: Project Initiation & Team Selection During this preliminary investigation, all staff members involved in the industry discusses the topic in detail.
Step 2: Prepare Data Systems and Perform Secondary Research The first task of the research team is to prepare for the data collection process: Filing systems and relational databases are developed as needed.
Step 3: Preparation for Interviews & Questionnaire Design The core of all iData research reports is primary market research. Interviews with industry insiders represent the single most reliable way to obtain accurate, current data about market conditions, trends, threats and opportunities.
Step 4: Performing Primary Research At this stage, interviews are performed using contacts and information acquired in the secondary research phase.
Step 5: Research Analysis: Establishing Baseline Estimates Following the completion of the primary research phase, the collected information must be synthesized into an accurate view of the market status. The most important question is the current state of the market.
Step 6: Market Forecast and Analysis iData Research uses a proprietary method to combine statistical data and opinions of industry experts to forecast future market values.
Step 7: Identify Strategic Opportunities iData analysts identify in broad terms why some companies are gaining or losing share within a given market segment.
Step 8: Final Review and Market Release An integral part of the iData research methodology is a built-in philosophy of quality control and continuing improvement is integral to the iData philosophy.
Step 9: Customer Feedback and Market Monitoring iData philosophy of continuous improvement requires that reports and consulting projects be monitored after release for customer feedback and market accuracy.