Dental Overdentures Market Size, Share & Trends Analysis | United States & EU15 | 2018-2024 | MedSuite | Includes: Dental Overdentures, Implant Bars, Attachments & Implant Bridges
Year:

2018

Scope:

2014-2024

Region:

Europe, United States

Pages:

880

Published Date:

06/03/2018

Type:

MedSuite
Industry Trends
One impactful factor limiting growth of the implant-supported overdentures market was the ongoing improvement of dental health in the United States. Better dental health will equate to more partially, rather than fully, edentulous patients. As such, partial restorations will grow at the expense of full arch overdenture products, which are the focus of this report.
The overdentures market will be driven by patient awareness and favorable demographic factors throughout the forecast period. As national organizations and manufacturers consolidate the market, pushing out smaller competitors, their marketing efforts will improve patient education and awareness. Individuals with poor dental health are retiring or reaching old age with more
discretionary income and knowledge of the various restoration options available.
Overall the overdenture market is expected to reach $826 million by 2024 in the United States, and $1.2 billion in Europe.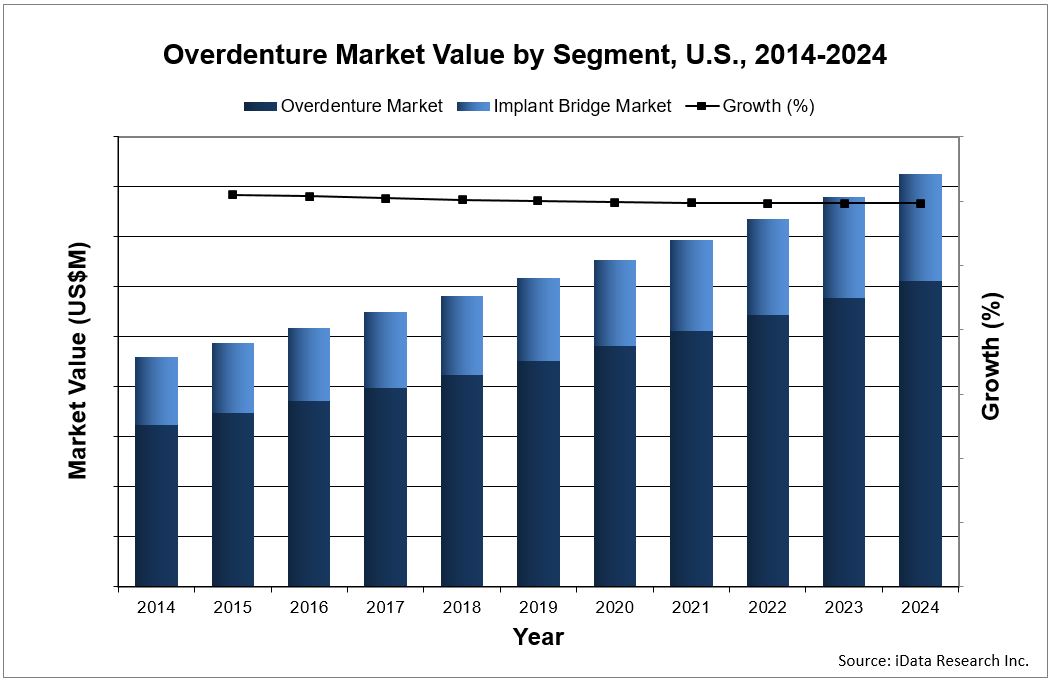 Report Regional Coverage
Throughout this research series, iData has covered several countries in great detail. Each country may be purchased as a stand-alone report, tailoring the data to your needs. The covered countries are:
United States
Europe (15 countries including: Germany, France, U.K., Italy, Spain, Benelux (Belgium, Netherlands and Luxembourg), Scandinavia (Denmark, Finland, Norway and Sweden) Austria, Switzerland and Portugal)
The Only Medical Device Market Research With:

✔

Unit Sales Growth Analysis


✔

Average Selling Prices


✔

Competitor Shares by Segment & Country


✔

 Interview-Based Research Methods


✔

 The Lowest Acquisition Cost


Highly Detailed Segmentation
While this report suite contains all market data, each of the market segments are also available as stand alone MedCore reports. This allows you to get access to only the market research that you need. You can view all these included reports and segmentation here:
Product Portfolio for Dental Overdentures – MedFolio
Dental Overdenture Market – MedCore
Implant Bar Market – MedCore
Attachment Market – MedCore
Implant Bridge Market – MedCore
Buying all of these reports together in this suite package will provide you with substantial discounts from the separate prices. Request Pricing to Learn More
Full Segmentation Map for the United States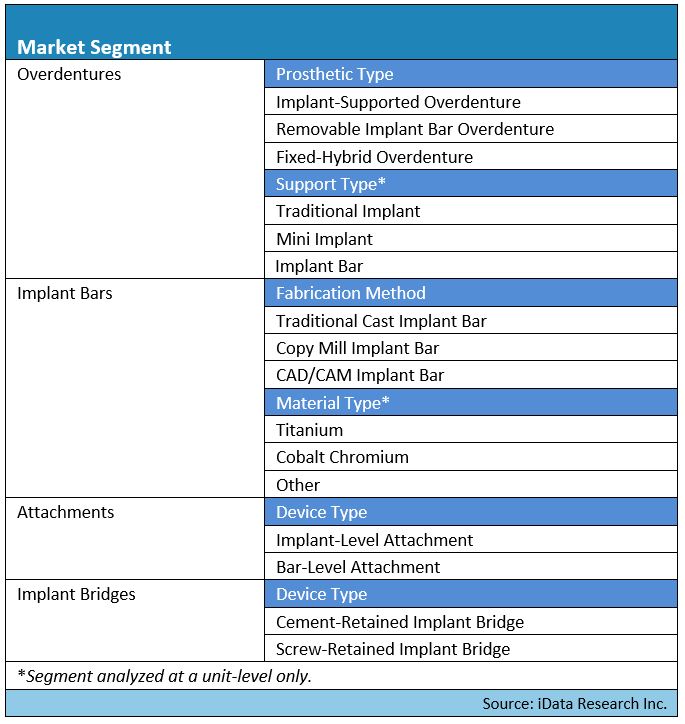 Data Types Included
Unit Sales, Average Selling Prices, Market Value & Growth Trends
Forecasts Until 2024, and Historical Data to 2014
Market Drivers & Limiters for Each Overdenture and Implant Bridge Segment
Competitive Analysis with Market Shares for Each Segment
Recent Mergers & Acquisitions
Disease Overviews and Demographic Information
Company Profiles, Product Portfolios and SWOT for Top Competitors
Related Press Releases from Top Competitors
Overdenture Market Share Insights
The United States overdenture market is dominated by dental laboratories and CAD/CAM milling facilities, making up more than half the market. These laboratories produced the majority of traditional cast implant bars in the United States. However, as mentioned previously, dental laboratories are rapidly switching to CAD/CAM technology to fabricate their restorations. The increasing affordability of CAD/CAM systems has allowed laboratories to compete with the milling capabilities of CAD/CAM manufacturers. As a result, laboratories will continue to hold a significant share of the implant bridge and bar markets over the forecast period.
This trend is even more prominent in Europe, where Labs and milling facilities consume an even greater share of the market.
The leading company in these markets is Locator (manufactured by Zest Anchors), followed by O-Ring in the U.S., and Dalbo in Europe. Locator® attachments are compatible with more than 350 different implant products, spanning over 70 manufacturers. These attachments offer a pivoting and self-aligning design with greater resiliency and a maximum implant divergence of 40 degrees. With a total attachment height of 3.17 mm for an externally hexed implant, the Locator® attachment offers the lowest vertical height available in the market. Nylon male pieces are available in three different colors, each one offering a different level of retention.
Throughout this series of reports, iData's analysts have studied over 50 companies closely. For a full list of companies mentioned in this series of research see the table below.
All Companies Analyzed in this Study

3M ESPE
3D Systems
Affordable Dentures and Implants
Albensi Laboratories
Alphadent
AnaxDENT North America
Anthogyr
ASIGA
AvaDent
Avinent
Avista Capital Partners
BC Partners
BioHorizons
Biotech Dental
Bredent
CADstar
Cagenix
Cendres+Métaux
ClearChoice
Core3dcentres
Createch Medical
Danaher Corporation
Dental Wings
DENTCA
Dentsply Sirona
DentWise
DESS
Egile XXI Corporation
EnvisionTEC

Formlabs
Glidewell Laboratories
Implant Direct
Kerator
Kulzer
LaStruttura
MicroDental Laboratories
MIS Implants
Modern Dental
New Ancorvis
Nobel Biocare
Nobil-Metal
Panthera Dental
PDS
Phibo
Preat Corporation
Proscan
Rhein83
Rodo Medical
Simeda
Sterngold Dental
Stratasys
Straumann
Supra Solutions BV
Tricare
Trycare Ltd.
VITA
Zest Anchors
Zimmer Biomet
Latest Developments in this Market
February 2018 – BC Partners to acquire Zest Dental Solutions from Avista Capital Partners
February 2018 – EnvisionTEC and AvaDent enter partnership for digital denture solution
February 2018 – EnvisionTEC launches new printer Vida cDLM and new materials

iData's 9-Step Research Methodology
Our reports follow an in-depth 9-step methodology which focuses on the following research systems:
Original primary research that consists of the most up-to-date market data
Strong foundation of quantitative and qualitative research
Focused on the needs and strategic challenges of the industry participants
Step 1: Project Initiation & Team Selection During this preliminary investigation, all staff members involved in the industry discusses the topic in detail.
Step 2: Prepare Data Systems and Perform Secondary Research The first task of the research team is to prepare for the data collection process: Filing systems and relational databases are developed as needed.
Step 3: Preparation for Interviews & Questionnaire Design The core of all iData research reports is primary market research. Interviews with industry insiders represent the single most reliable way to obtain accurate, current data about market conditions, trends, threats and opportunities.
Step 4: Performing Primary Research At this stage, interviews are performed using contacts and information acquired in the secondary research phase.
Step 5: Research Analysis: Establishing Baseline Estimates Following the completion of the primary research phase, the collected information must be synthesized into an accurate view of the market status. The most important question is the current state of the market.
Step 6: Market Forecast and Analysis iData Research uses a proprietary method to combine statistical data and opinions of industry experts to forecast future market values.
Step 7: Identify Strategic Opportunities iData analysts identify in broad terms why some companies are gaining or losing share within a given market segment.
Step 8: Final Review and Market Release An integral part of the iData research methodology is a built-in philosophy of quality control and continuing improvement is integral to the iData philosophy.
Step 9: Customer Feedback and Market Monitoring iData philosophy of continuous improvement requires that reports and consulting projects be monitored after release for customer feedback and market accuracy.
Explore Options
Dental Overdentures Market Size, Share & Trends Analysis | United States & EU15 | 2018-2024 | MedSuite | Includes: Dental Overdentures, Implant Bars, Attachments & Implant Bridges
$295 – $25,000
2018

2014-2024

Europe, United States

06/03/2018

880

MedSuite
Request Sample Sheets
Request Customization
Related Reports