Product Description
By 2020, the European dental materials market size was valued at approximately €1 billion, and there were over 1.07 million dental material procedures performed every year. In spite of COVID19, the market size is expected to increase at a compound annual growth rate (CAGR) of 1.4% to exceed €1.1 billion in 2026.
Throughout this medical market research, we analyzed 31 dental materials companies across Europe and used our comprehensive methodology to understand the market sizes, unit sales, company market shares, and to create accurate forecasts.
While this MedSuite report contains all the EU Dental Materials market data and analysis, each of the market segments is also available as stand-alone MedCore reports. This allows you to get access to only the market research that you need.
Data Types Included
Unit Sales, Average Selling Prices, Market Value & Growth Trends
Dental Material Procedure Volumes
Market Forecasts Until 2026, and Historical Data to 2016
Competitive Analysis with Market Shares for Each Segment
Market Drivers & Limiters for Each Dental Materials market
Recent Mergers & Acquisitions
COVID19 Impact On the European Dental Materials Market
Disease Overviews and Demographic Information
Company Profiles, Product Portfolios and SWOT for Top Competitors
Market Value and Industry Trends
The aging European population is the most significant driver of the dental materials market. Baby boomers are projected to live longer than those of previous generations and are therefore more likely to invest in their oral health during the remainder of their lives. Consequently, the demand for dental materials will increase due to this generation's need for more crowns, bridges, and other restorations.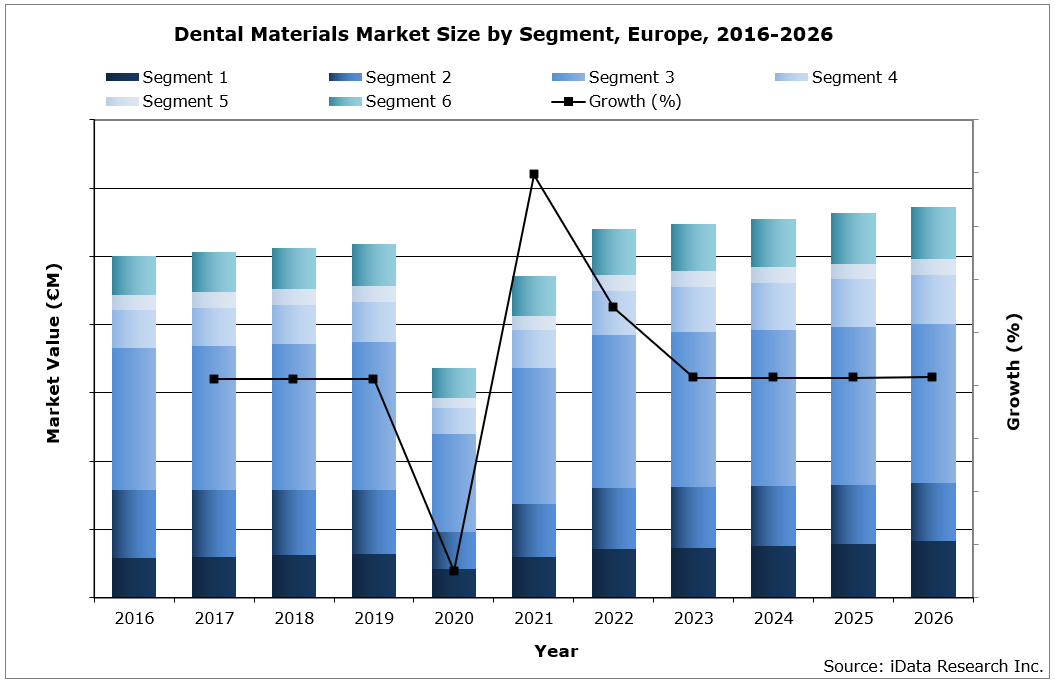 The World Health Organization (WHO), along with a number of local governments and national dental associations, continue to strategize on strengthening oral health promotion. In recent years, a variety of measures have been taken to inform the public about the importance of dental health, in hopes of decreasing the number of cavities across Europe. Increased public awareness has led to more preventive dentistry, thereby decreasing the extent to which restorative procedures are necessary.
The digital integration that is slowly taking place within dental practices and labs across Europe is certain to change the space. The current barriers are high prices for CAD/CAM systems, as well as the time it will take dentists to learn and adopt these systems into the workplace. Once integrated, an intraoral scanner will streamline otherwise difficult procedures, as well as being used for both full and removable dentures, fabrication of orthodontic appliances, fabrication of aligners in the office and sleep apnea appliances. Another trend is the rise of AI-enabled tools for dentistry. Once implemented, an AI system could analyze a vast database of diagnostic images, such as X-rays, to point dentists to the most probable areas of concern, increasing both the speed and probability of detection.
COVID19 Impact On the Dental Materials Market in Europe
The COVID-19 global pandemic was especially damaging to dental markets, prompting many dental clinics across Europe to temporarily close. Emergency procedures were still being performed in hospital settings. The purpose of the impact of COVID-19 chapter within the scope of this report is to provide directional guidance on the impact of COVID-19 on the dental materials markets in Europe. It estimated that the market size will return back to pre-COVID19 levels in late 2021 / early 2022.
Competitive Analysis

By 2020, more than 75% of the European Dental Materials market was shared by five companies, whereas the remainder was scattered across a multitude of competitors. The competitor with the most dominant position was undeniably 3M, which competed across all market segments. 3M ESPE was the only competitor that managed to achieve a total market share of over 30%.
The second-largest player in the European market was Dentsply Sirona. Like 3M, Dentsply Sirona competed in all six dental materials segments and did so quite successfully. The majority of its success stemmed from the direct restorative material market. Additionally, the company maintained a pharmaceutical sector specializing in dental anesthesia.
The third leading competitor in the EU Dental Materials market by 2020 was GC Europe. The company competed within all the dental material segments with the exception of the dental anesthetic market. Its main sources of revenue stemmed from the direct restorative material and dental cement markets. Based on the company's financial reports, the direct restorative material market was one of the main drivers of GC Europe's business.
RESEARCH REGIONAL COVERAGE
Throughout this research series, iData Research has covered several countries in great detail. Each country may be purchased as a stand-alone report, tailoring the data to your needs. The countries covered are:
Germany
France
U.K.
Italy
Spain
Benelux (Belgium, Netherlands, and Luxembourg)
Scandinavia (Norway, Finland, Sweden, and Denmark)
Switzerland
Austria
Detailed Market Segmentation
Dental Material Procedure Volumes – MedPro – The complete procedural analysis of the Dental Material market in Europe, which includes Dental Cement, Alginate/Elastomer Impression, Amalgam Direct Restoration, Glass Ionomer/RMGI Direct Restoration Bonding, Core Build-Up, and Anesthetic procedures.

Dental Cement Market

– MedCore – The market analysis is further broken down by:

Product Type (Permanent Cement and Temporary Cement);
Material Type (Composite Resin, Glass Ionomer / RMGI, Zinc Polycarboxylate, and Zinc Phosphate);
Delivery Type (Powder/Liquid, Two-Paste/Syringe, Capsule Systems, and Auto-mix Syringe);
Curing Method (Light-Cure, Self-Cure, and Dual-Cure);
Application Type (Crowns and Bridges; Posts, Inlays, Onlays, and Veneers; Dental Implant Crowns).

Dental Impression Material Market

– MedCore – The market is comprised of the segments broken down by:

Product Type (Silicone, Polyether, and Alginate);
Delivery Type (Cartridge / Syringe / Garant Gun, Hand-Mix, and Dynamic Mixer).

Direct Restorative Material Market

– MedCore – The market is further segmented by:

Product Type (Composites, Glass Ionomer/Resin Ionomer, and Amalgam);
Delivery Type (Powder/Liquid, Two-Paste/Syringe, Unit Dose/Capsules);
Curing Method (Light-Cure, Self-Cure, and Dual-Cure).

Dental Bonding Agents Market

– MedCore – The analysis is comprised of the market segments based on:

Product Type (Total-Etch, Self-Etch, and Universal)
Delivery Type (Two-Paste/Syringe);
Curing Method (Light-Cure, Self-Cure, Dual-Cure);
Application (Direct or Indirect).

Dental Core Build-Up Material Market

– MedCore – The chapter is further broken down by:

Product Type (Composite Resin, Glass Ionomer/RMGI);
Delivery Type (Auto-Mix Syringe; Hand-Mix Powder and Liquid; Pre-Mix);
Curing Method (Light-Cure, Self-Cure, and Dual-Cure).

Dental Anesthesia Market

– MedCore – The market is further broken down into segments by:

Product Type (Topical and Local Injection);
Drug  Type (Lidocaine, Articaine, Mepivacaine, Bupivacaine, and Prilocaine).
DON'T SEE THE SEGMENT OR DATA YOU NEED?
Feel free to contact us or send a request by pressing one of the buttons below.