Anesthesia Device Market Analysis, Size, Trends | Canada | 2020-2026 | MedSuite
Year:

2020

Scope:

2016-2026

Region:

Canada

Pages:

108

Published Date:

06/02/2020
By 2020, the total Canadian anesthesia device market size was valued at $36.6 million, including the video laryngoscope market valued at $4 million. The total market size is expected to increase at a compound annual growth rate (CAGR) of 2% to reach approximately $42 million in 2026.
Throughout this medical market research, we analyzed 19 anesthesia device companies across Canada and used our comprehensive methodology to understand the market sizes, unit sales, company market shares, and to create accurate forecasts.
While this MedSuite report contains all the Canadian Anesthesia Device market data and analysis, each of the market segments is also available as stand-alone MedCore reports. This allows you to get access to only the market research that you need.
Data Types Included
Unit Sales, Average Selling Prices, Market Value & Growth Trends
Market Forecasts Until 2026, and Historical Data to 2016
Market Drivers & Limiters for Each Anesthesia Device Market
Competitive Analysis with Market Shares for Each Segment
Recent Mergers & Acquisitions
Company Profiles, Product Portfolios and SWOT for Top Competitors
Market Value and Industry Trends
In 2001, Canadian vascular and general surgeon John Pacey invented the first video laryngoscope, the GlideScope®. Video laryngoscopes have a number of advantages over direct laryngoscopy. Reduced intubation time and decreasing intubation risks have driven the adoption of these devices in the market so far.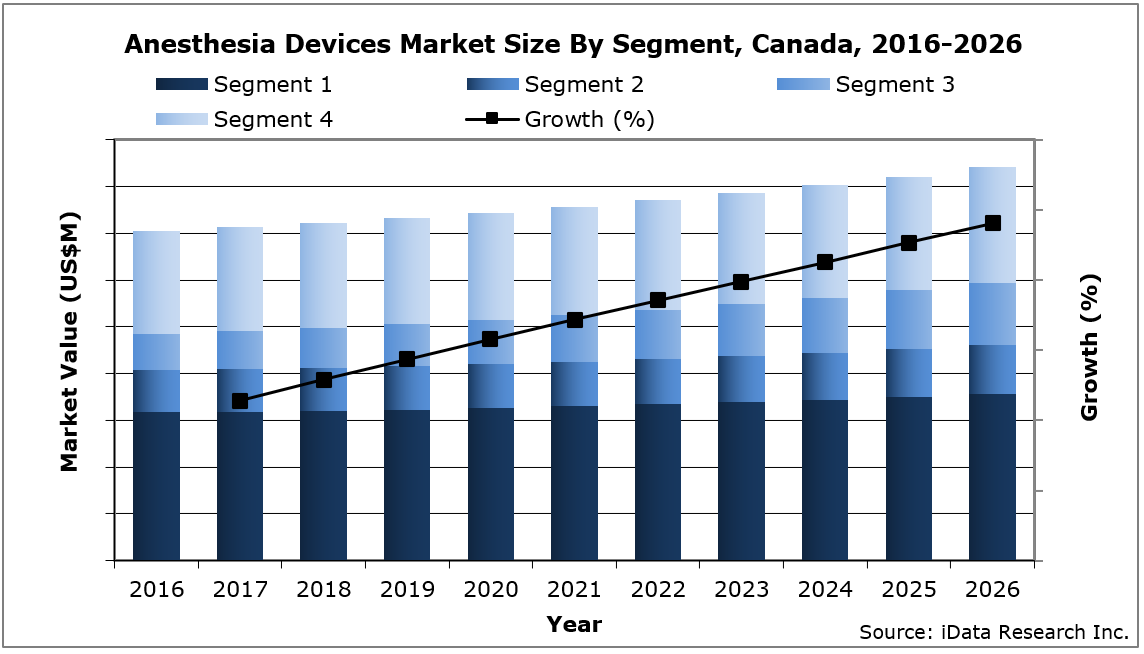 Overall, growth in the anesthesia device market has been driven through anesthesia being administered in operating rooms and in other areas of the hospital, as well as in both surgical procedures normally requiring general anesthesia and procedures that deal with more difficult patient needs. This, in turn, has expanded the potential patient pool for the anesthesia market and the overall number of procedures using anesthesia.
The Canadian healthcare system is limited by government spending on healthcare. Since the majority of the system operates in the public space, provincial healthcare budgets dictate the market. This results in a hesitance to invest in new, more expensive technologies and generally reduces the unit sales of capital equipment. Additionally, as a result of the limited budgets, hospitals and other healthcare providers use devices beyond their lifecycle, replacing them only when broken.
Competitive Analysis

By 2020, the main competitor in the Canadian anesthesia device market was Verathon. The company has the competitive advantage of being the first to pioneer the video laryngoscope technology in the market. Over the last few years, the company's market share has been decreasing as other competitors enter the market or introduce more innovative products to the market.
The second-leading competitor in the Canadian anesthesia device market was GE Healthcare. GE Healthcare offers products in the markets for ADUs and anesthesia monitors. GE Healthcare continues to have a strong share in both markets, with an especially prominent share of the ADU market, where it was the leading competitor.
The remaining competitors in the market held a notable portion of the anesthesia device market share. Major competitors included Drager, Karl Storz, Philips and Mindray.
Segments Covered
Feel free to click on each title to view detailed market segmentation.
Detailed Market Segmentation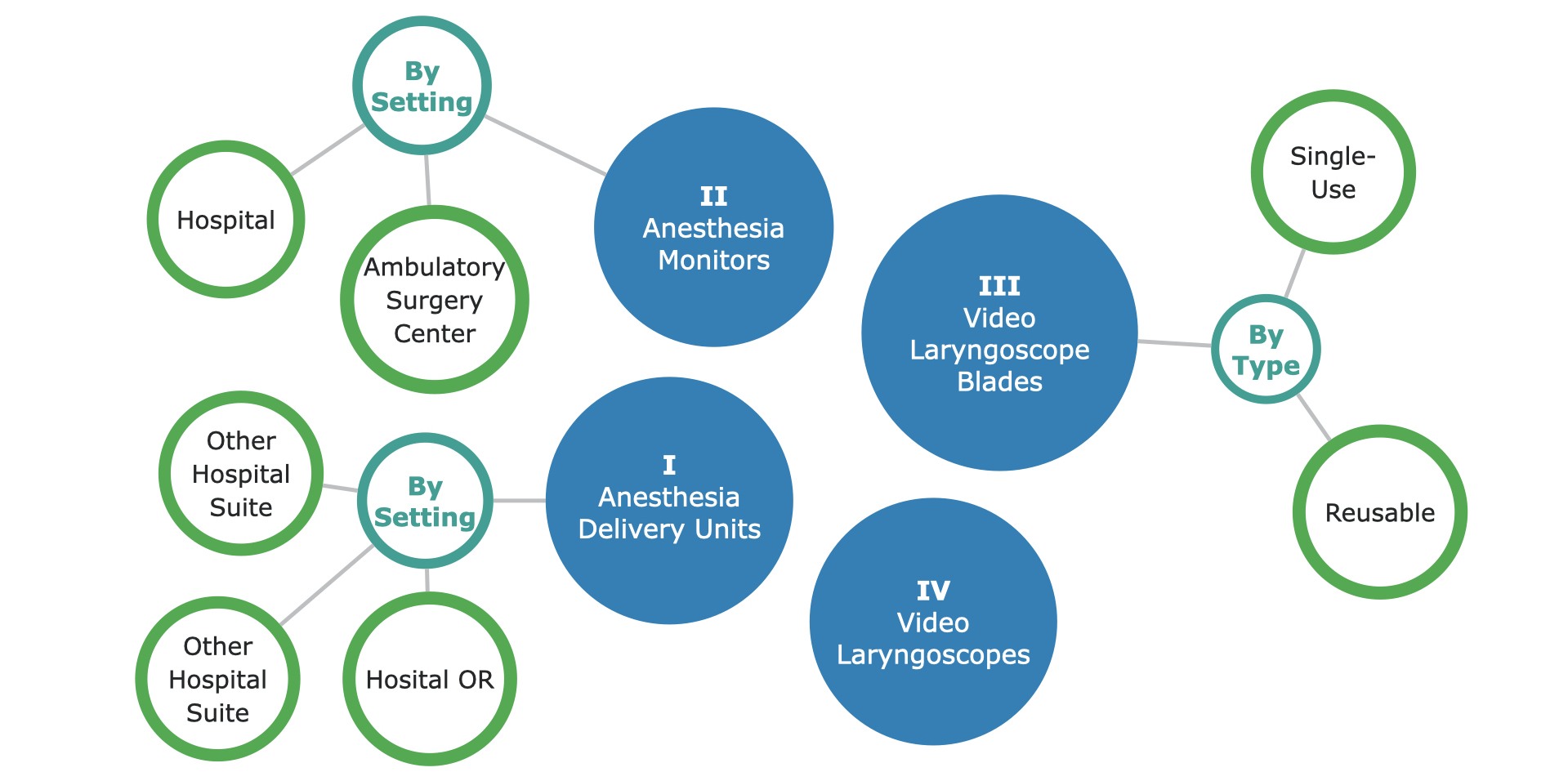 DON'T SEE THE SEGMENT OR DATA YOU NEED?
Feel free to contact us or send a request by pressing one of the buttons below.
TABLE OF CONTENTS FOR THE CANADA ANESTHESIA DEVICE MARKET REPORT SUITE
TABLE OF CONTENTS ILIST OF FIGURES IVLIST OF CHARTS VIEXECUTIVE SUMMARY 1CANADA ANESTHESIA DEVICE MARKET OVERVIEW 1COMPETITIVE ANALYSIS 3MARKET TRENDS 5MARKET DEVELOPMENTS 6MARKETS INCLUDED 7RESEARCH METHODOLOGY 9Step 1: Project Initiation & Team Selection 9Step 2: Prepare Data Systems and Perform Secondary Research 12Step 3: Preparation for Interviews & Questionnaire Design 14Step 4: Performing Primary Research 15Step 5: Research Analysis: Establishing Baseline Estimates 17Step 6: Market Forecast and Analysis 18Step 7: Identify Strategic Opportunities 20Step 8: Final Review and Market Release 21Step 9: Customer Feedback and Market Monitoring 22
CANADIAN ANESTHESIA DEVICE MARKET OVERVIEW
2.1 INTRODUCTION 232.2 MARKET OVERVIEW 252.3 TREND ANALYSIS BY SEGMENT 302.4 DRIVERS AND LIMITERS 332.4.1 Market Drivers 332.4.2 Market Limiters 342.5 COMPETITIVE MARKET SHARE ANALYSIS 362.6 MERGERS AND ACQUISITIONS 40
ANESTHESIA DELIVERY UNIT MARKET 41
3.1 INTRODUCTION 413.2 MARKET OVERVIEW 433.3 MARKET ANALYSIS AND FORECAST 493.3.1 ADU Market 493.3.2 Hospital OR ADU Market 513.3.3 Other Hospital Suite ADU Market 533.3.4 Ambulatory Surgery Center ADU Market 563.4 DRIVERS AND LIMITERS 583.4.1 Market Drivers 583.4.2 Market Limiters 583.5 COMPETITIVE MARKET SHARE ANALYSIS 60
ANESTHESIA MONITOR MARKET
4.1 INTRODUCTION 634.2 MARKET OVERVIEW 644.3 MARKET ANALYSIS AND FORECAST 704.3.1 Anesthesia Monitor Market 704.3.2 Hospital Anesthesia Monitor Market 724.3.3 Ambulatory Surgery Center Anesthesia Monitor Market 754.4 DRIVERS AND LIMITERS 774.4.1 Market Drivers 774.4.2 Market Limiters 774.5 COMPETITIVE MARKET SHARE ANALYSIS 79
VIDEO LARYNGOSCOPE MARKET
5.1 INTRODUCTION 825.2 MARKET ANALYSIS AND FORECAST 835.3 DRIVERS AND LIMITERS 855.3.1 Market Drivers 855.3.2 Market Limiters 855.4 COMPETITIVE MARKET SHARE ANALYSIS 87
LARYNGOSCOPE BLADE MARKET
6.1 INTRODUCTION 906.2 MARKET OVERVIEW 916.3 MARKET ANALYSIS AND FORECAST 966.3.1 Laryngoscope Blade Market 966.3.2 Single-Use Laryngoscope Blade Market 986.3.3 Reusable Laryngoscope Blade Market 1006.4 DRIVERS AND LIMITERS 1026.4.1 Market Drivers 1026.4.2 Market Limiters 1026.5 COMPETITIVE MARKET SHARE ANALYSIS 104
ABBREVIATIONS
The
Anesthesia Device Market Report Suite | Canada | 2020-2026 | MedSuite
includes analysis on the following companies currently active in this market:
Ambu
CN Systems
Drӓger
Fukuda Denshi
HEYER Medical
Hillrom
Karl Storz
Medtronic
Mindray
Nihon Kohden

Penlon
Philips
Progetti
Salter Labs
Schiller
Spacelabs
Sunray
Verathon
Vyaire
iData's 9-Step Research Methodology
Our reports follow an in-depth 9-step methodology which focuses on the following research systems:
Original primary research that consists of the most up-to-date market data
Strong foundation of quantitative and qualitative research
Focused on the needs and strategic challenges of the industry participants
Step 1: Project Initiation & Team Selection During this preliminary investigation, all staff members involved in the industry discusses the topic in detail.
Step 2: Prepare Data Systems and Perform Secondary Research The first task of the research team is to prepare for the data collection process: Filing systems and relational databases are developed as needed.
Step 3: Preparation for Interviews & Questionnaire Design The core of all iData research reports is primary market research. Interviews with industry insiders represent the single most reliable way to obtain accurate, current data about market conditions, trends, threats and opportunities.
Step 4: Performing Primary Research At this stage, interviews are performed using contacts and information acquired in the secondary research phase.
Step 5: Research Analysis: Establishing Baseline Estimates Following the completion of the primary research phase, the collected information must be synthesized into an accurate view of the market status. The most important question is the current state of the market.
Step 6: Market Forecast and Analysis iData Research uses a proprietary method to combine statistical data and opinions of industry experts to forecast future market values.
Step 7: Identify Strategic Opportunities iData analysts identify in broad terms why some companies are gaining or losing share within a given market segment.
Step 8: Final Review and Market Release An integral part of the iData research methodology is a built-in philosophy of quality control and continuing improvement is integral to the iData philosophy.
Step 9: Customer Feedback and Market Monitoring iData philosophy of continuous improvement requires that reports and consulting projects be monitored after release for customer feedback and market accuracy.