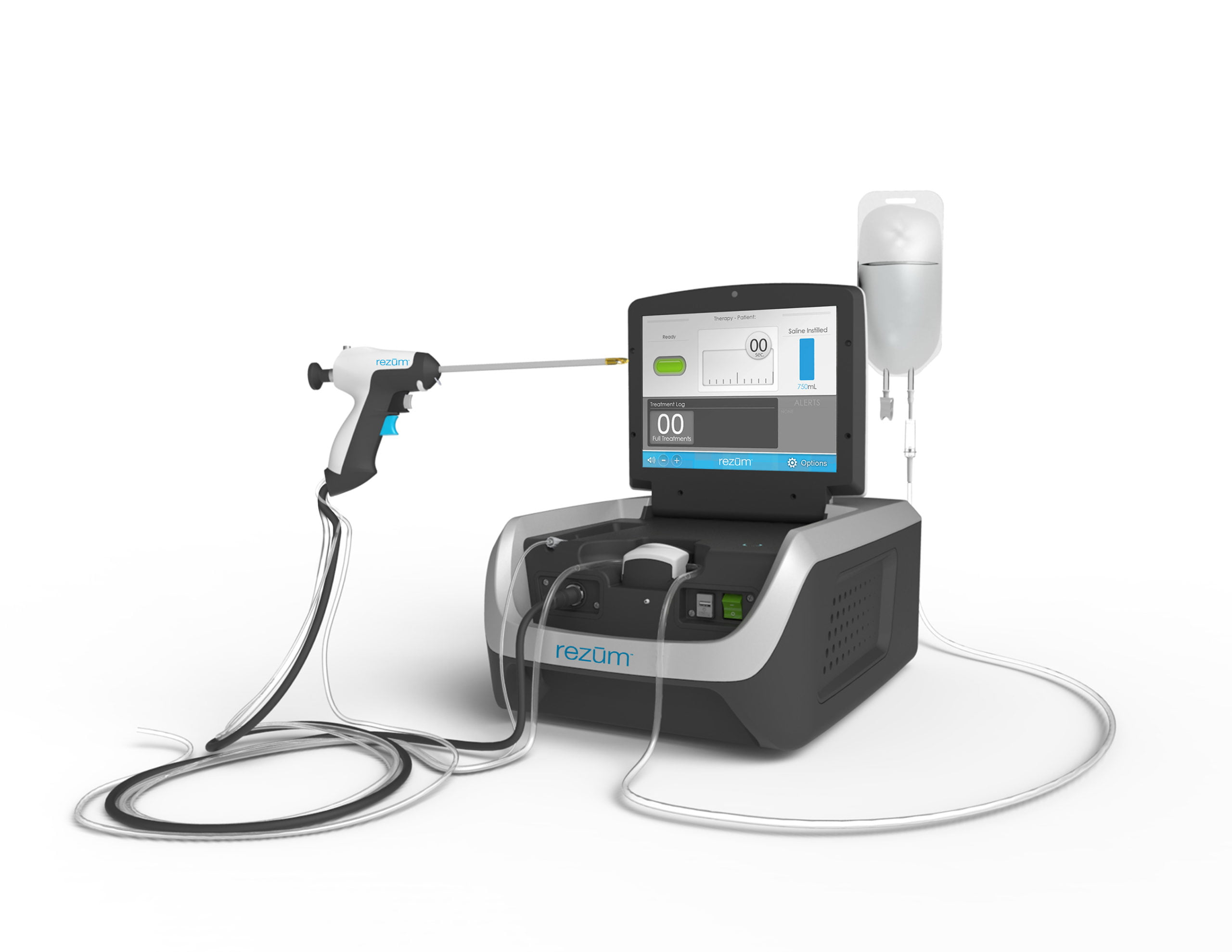 NxThera, Inc., a medical device company pioneering the application of its convective radiofrequency thermal technology to treat endourological conditions, recently announced the Humana and Aetna health care insurance plans have joined other major insurers to provide coverage of the Rezūm® System for the minimally invasive treatment of benign prostatic hyperplasia (BPH), or enlarged prostate. With this added coverage from two of the country's top health care insurance companies, Rezūm is now available to more than 80 percent of men suffering from BPH across the country. Approximately 50 percent of men over the age of 50 and up to 90 percent of men over 80 suffer from BPH.
"Our mission is to improve the lives of men suffering from BPH, and the Rezūm System provides urologists and their patients with a safe, effective and durable treatment option with minimal discomfort," said Bob Paulson, president and CEO of NxThera. "The recently published 2-year data from our Rezūm II pivotal study demonstrates sustained and durable symptom relief and preserved sexual function in patients who were treated with the Rezūm System. These compelling clinical outcomes from a minimally invasive procedure that can be performed in an office or outpatient setting, provide an efficient and cost-effective BPH treatment option for urologists, patients and health plans."
The Rezūm System uses radiofrequency current to create thermal energy that is convectively delivered to obstructive prostate tissue through targeted, precise treatments with minimal discomfort. The thermal energy rapidly and effectively ablates the tissue that causes BPH, which is resorbed by the body's immune system to alleviate the symptoms of BPH and improve patients' quality of life and ability to urinate.
About NxThera
NxThera pioneered its convective radiofrequency thermal therapy platform technology to treat a variety of endourological conditions, beginning with BPH. The company is furthering the application of the technology platform through advanced research and development targeting the treatment of prostate cancer and kidney cancer. NxThera's FDA-cleared Rezūm System is a next-generation transurethral needle ablation system indicated to treat symptoms of BPH using radiofrequency energy that is convectively delivered to obstructive prostate tissue in targeted, precise thermal energy treatments, with minimal discomfort. Rezūm treatments provide improvements in BPH symptoms, urine flow and quality of life. Founded in 2008, NxThera is located in Maple Grove, Minn. For more information, visit www.Rezūm.com.
For Further Information
More on the markets for urology can be found in this latest edition report published by iData entitled U.S. Market for Urological Devices, which covers the U.S. as a whole, as well as market segments for urinary incontinence devices, stone management devices, BPH treatment devices, urological endoscopes, prostate cancer treatment devices, urodynamic equipment, and nephrostomy devices.
The iData series on the market for urological devices also covers the U.S., India, China, Japan, and 15 countries in Europe. Full reports provide a comprehensive analysis including units sold, procedure numbers, market value, forecasts, as well as detailed competitive market shares and analysis of major players' success strategies in each market and segment. Register online or email us at [email protected] for an U.S. Market for Urological Devices report brochure and synopsis.
About iData Research
iData Research is an international market research and consulting firm, dedicated to providing the best in business intelligence for the medical device industry. Our research empowers our clients by providing them with the necessary tools to achieve their goals and do it right the first time. iData covers research in: Laparoscopy, Urology, Gynecology, Endoscopy, Dental Operatory Equipment, Dental Material, Dental Lasers, Dental Prosthetics, Dental CAD/CAM, Dental Bone Graft Substitutes, Ophthalmics, Ultrasound, X-Ray Imaging, Diagnostic Imaging, Oncology, Vascular Access, Interventional Cardiology, Cardiac Surgery, Cardiac Rhythm Management, Electrophysiology, Operating Room Equipment, Surgical Microscopes, Robotics and Surgical Navigation, Spinal Implants and VCF, Spinal MIS, Orthopedic Soft Tissue Repair and Regeneration, Orthopedic Trauma, Large & Small Joints, Anesthesiology, Wound Management, Orthopedics and more.
We have built a reputation and earned our clients' trust based on consistent and uniquely intelligent research that allows our customers to make confident decisions and impact their businesses. A combination of market expertise and over a decade of experience has resulted in a deep understanding of the medical device industry that has inspired innovation and propelled our clients to success.
About Procedure Tracker
Procedure number data is available from iData's Procedure Tracker service, which allows subscribers to define and analyze procedure data segmented by state, region, hospital, surgery centre, and physician. A customizable dashboard sorts procedure data for further analysis and research.
About Reimbursement Tracker
iData Research's Reimbursement Policy Tracker enables medical device, dental, pharmaceutical and healthcare professionals to receive real-time policy updates from hundreds of insurance companies and 60,000+ policies across all therapeutic areas in the United States.
---
Explore our careers page for our current available job opportunities. This is your chance to join a fun and dynamic team in the medical market research industry. Send your resume to [email protected] with the job title in the subject line, and feel free to tell us a little about yourself. We look forward to hearing from you.
Like us on Facebook: facebook.com/iDataResearch
Follow us on LinkedIn: linkedin.com/company/idata-research
Follow us on Twitter: twitter.com/iDataResearch