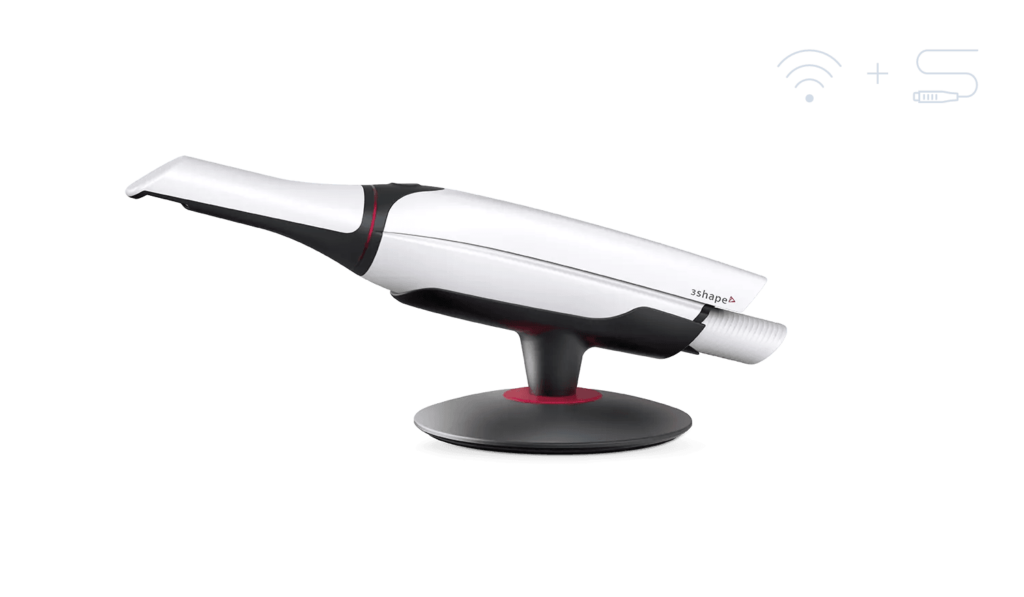 3Shape has released a new and improved version of their old TRIOS 3 with the TRIOS 4. The TRIOS system is a complete in-house product that includes a scanner and extensive design software to create a digital impression of the tooth's anatomy. Digital impressions offer patients the convenience of not having to endure traditional impressions using a paste. The TRIOS 4 is now their most advanced scanner to date. The update comes with increased battery life (+30%), optimized wireless performance, smart tips, and groundbreaking caries diagnostic aid technology for surface caries.
The TRIOS 4 is an impressively fast intraoral scanner within the computer-aided design and computer-aided manufacturing (CAM/CAM) market. It is quick when starting and stopping scans while also being able to pick up where it had stopped. The smart tips are the specially engineered scanning heads that include features allowing for a shorter start-up time, automatic usage count with a notification when it's time to replace the tip, and removable scanning heads to control cross-infection.
TRIOS 4 has built-in fluorescent technology that aids in the identification of possible caries. The TRIOS 4 helps dental professionals a greater capacity in the early detection of surface caries, without the need for an additional scanning device.
"Did you know that over 1 million unique removable denture cases have been performed using 3Shape software since 2019?"

3Shapes
3Shape Background
3Shape was established in Denmark in the year 2000. Originally they were solely focused on the hearing aid industry by developing a digital method to produce hearing aid shells and take ear impressions. However, in 2004, 3Shape shifted their focus towards the dental industry after interest was rising around their products. 3Shape introduced its first 3D dental lab scanner and CAD/CAM software at IDS in 2005.
At the 2017 IDS, 3Shape showcased their new line of economical 3Shape® E Scanners. Although there are other cost-efficient options available on the market, usually from international competitors, 3Shape's inexpensive solution is still a relatively high-quality product. The business' large suite of scanners, and its flexibility, has allowed it to retain and grow its share, with many customers automatically viewing 3Shape as the clear leader in standalone scanners.
Digital Dentistry Market Analysis and Forecast
CAD/CAM technology is revolutionizing the dental prosthetics market. Dental CAD/CAM prototypes were introduced into industrial settings in the 1950s and 1960s, but the technology was limited by the computing power at the time. Traditionally, all-ceramic devices were handmade through a time consuming and labor-intensive process. The advent of CAD/CAM automation had an irreversible impact on the dental industry. Not only is this process much less labor intensive than the traditional method, it is also more accurate, with minimal human error.
Register to receive a free European Market Report Suite for Digital Dentistry 2020 – 2026synopsis
In 2019, the European market for standalone scanners was valued at approximately €87 million, which is a 5.5% increase over the previous year. 3Shape is a major competitor in the standalone CAD/CAM scanner market, holding over 11% of the market share in Europe. However, competition in this market will intensify through the forecast period as new competitors release their product lines. The ASP will consequently decline at a -1.7% CAGR to below €16,000 by 2024.
Via: 3Shapes