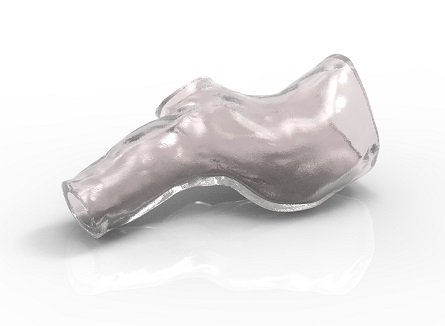 Researchers in Toulouse have successfully developed and implanted several customized stents that are anatomically identical to patients' trachea and/or bronchi, offering hope to patients for whom standard prostheses do not fit. This has been achieved through a collaboration between the Pulmonology department at Toulouse University Hospital and a Toulouse-based start-up company, AnatomikModeling.
The first results from a clinical trial in which these new generation stents have been implanted have just been published in the most prestigious international pneumology journal, the American Journal of Respiratory and Critical Care Medicine.
Indications for the implantation of a tracheobronchial prosthesis
Narrowing (or stenosis) of the trachea and/or bronchi leads to breathing difficulties and requires specific management through the implantation of a stent. Stenosis can occur due to a variety of reasons, such as post-intubation and post-tracheotomy problems, post-lung transplantation complications, , diseases of the tracheal tissue and anatomical idiosyncrasies of the trachea. Obstruction of these upper airways is also a common complication in lung cancer patients.
The limits of standard prostheses
Currently, the standard prostheses used are suitable for most patients. However, they are not appropriate for some patients in terms of size, diameter, etc, or in cases with complex tracheal or bronchial anatomy. Poorly adapted prostheses present a risk of stent migration, inflammatory reaction and/or perforation. Thus, there is a great need for innovation in this field in order to overcome these issues.
A remarkable innovation: initial clinical trial results promising
These new prostheses are custom-made in three steps: first, a 3D reconstruction of the patient's airways is produced from CT-scan images. This virtual reconstruction is then used to create a mould. Finally, a patient-specific prosthesis is manufactured from medical grade silicone elastomer.
The prosthesis is implanted by conventional bronchoscopy with the help of a prosthesis pusher, in the operating room under general anesthesia. In addition, the rigidity of the stent can be calculated as a function of the stenosis.
This new technology is being evaluated in an ongoing clinical trial. Through this, several patients have successfully received these implants, resulting in markedly improved quality of life with no complications so far.
For Further Information
More on the bronchoscopic market in the U.S. can be found in our report published by iData entitled US Market Report Suite for Bronchoscopic Devices, which covers market segments for bronchoscopes, bronchial stents, bronchial biopsy forceps, transbronchial aspiration needles, foreign body removal devices and bronchoscopic hand instruments.
Full reports provide a comprehensive analysis including units sold, procedure numbers, market value, forecasts, as well as detailed competitive market shares and analysis of major players' success strategies in each market and segment. Register online or email us at [email protected] for an US Market Report Suite for Bronchoscopic Devices brochure and synopsis.
About Procedure Tracker
Procedure number data is available from iData's Procedure Tracker service, which allows subscribers to define and analyze procedure data segmented by state, region, hospital, surgery centre, and physician. A customizable dashboard sorts procedure data for further analysis and research.
About Reimbursement Tracker
iData Research's Reimbursement Policy Tracker enables medical device, dental, pharmaceutical and healthcare professionals to receive real-time policy updates from hundreds of insurance companies and 60,000+ policies across all therapeutic areas in the United States.
About iData Research
iData Research is an international market research and consulting firm, dedicated to providing the best in business intelligence for the medical device industry. Our research empowers our clients by providing them with the necessary tools to achieve their goals and do it right the first time. We have built a reputation and earned our clients' trust based on consistent and uniquely intelligent research that allows our customers to make confident decisions and impact their businesses. A combination of market expertise and over a decade of experience has resulted in a deep understanding of the medical device industry that has inspired innovation and propelled our clients to success.
---
Explore our careers page for our current available job opportunities. This is your chance to join a fun and dynamic team in the medical market research industry. Send your resume to [email protected] with the job title in the subject line, and feel free to tell us a little about yourself. We look forward to hearing from you.
Like us on Facebook: facebook.com/iDataResearch
Follow us on LinkedIn: linkedin.com/company/idata-research
Follow us on Twitter: twitter.com/iDataResearch