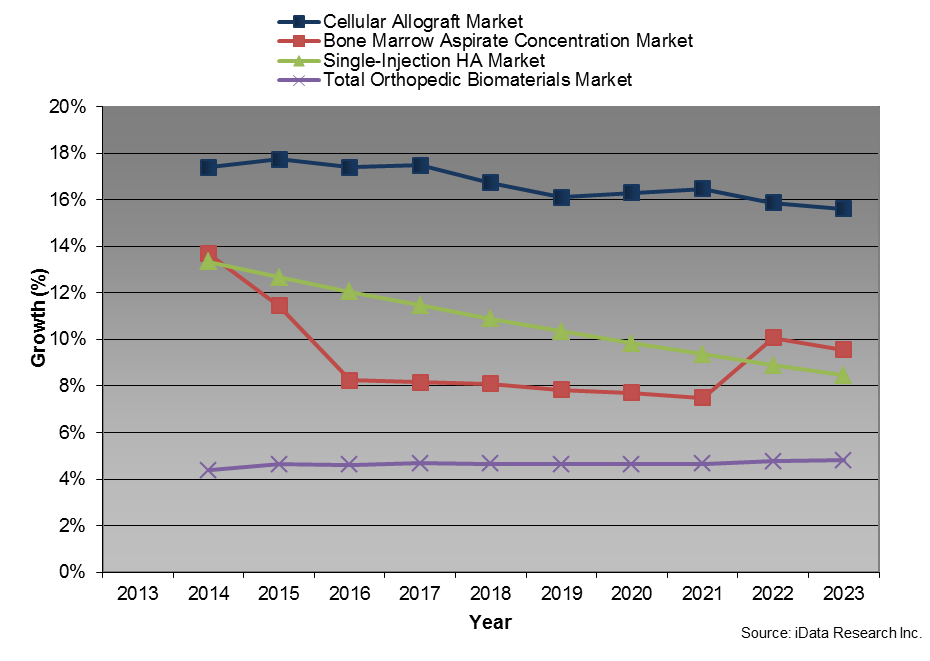 In a recent article by iData Research Inc., a global medical market research firm, on the U.S. market for orthopedic biomaterials, leading competitors are diversifying their product portfolios in order to penetrate higher growth segments. These markets include cellular allografts, cell therapy, synthetic bone graft substitutes and the single-injection hyaluronic acid markets. Competitors in low growth or declining segments are looking outside their traditional space by expanding into other existing segments. For example, Bioventus, the leader in the five-injection hyaluronic acid market, has shifted its focus towards the fast growing single- and triple-injection treatment products. Bioventus is achieving this through securing exclusive U.S. distribution rights for IBSA's three-injection Gelsyn-3™, as well as trying to secure premarket approval for its existing single-injection product, Durolane®, in the United States.
In the article, iData Senior Partner and CEO, Kamran Zamanian states: "The synergies between the traditional bone graft substitute materials such as demineralized bone matrix (DBM) and allografts provide a platform for companies that operate within those markets to pursue growth by expanding into the cellular allograft market to complement their product portfolio. As new competitors enter the market, prices should decline, which will aid in greater adoption and, in turn, fuel the number of procedures using cellular allografts."
The competitive landscape in the U.S. orthopedic biomaterials market has not significantly changed in terms of rankings, but the strategies of individual companies have. In particular, the leading competitors have aligned with consumer and physician demand to emphasize convenience over price. Treatments that speed up recovery are central to the future of the orthopedic biomaterials market and the high cost of development provides a barrier to entry for new competitors. Nevertheless, continued innovation and development of such products is the key for future growth.
To read the full article, visit https://idataresearch.com/us-orthopedic-biomaterials-market-shift-competitive-strategy/
For Further Information
More on the orthopedic biomaterials market in the U.S. can be found in a series of reports published by iData entitled the U.S. Market Report Suite for Orthopedic Biomaterials. This report covers the following market segments: orthopedic bone graft substitutes, orthopedic growth factors, cellular allografts, orthopedic cell therapy, orthopedic hyaluronic acid viscosupplementation, orthopedic cartilage repair, and spinal machined bone allografts.
The iData series on the market for orthopedic biomaterials covers the U.S., Japan, South Korea, Australia, China, India and 15 countries in Europe including Germany, France, the United Kingdom (U.K.), Italy, Spain, Benelux (Belgium, Netherlands and Luxemburg), Scandinavia (Finland, Denmark, Sweden and Norway), Portugal, Austria and Switzerland. Reports provide a comprehensive analysis including units sold, procedure numbers, market value, forecasts, as well as detailed competitive market shares and analysis of major players' success strategies in each market and segment. To find out more about orthopedic biomaterials device market data or procedure data, register online or email us at [email protected] for an U.S. Market Report Suite for Orthopedic Biomaterials brochure and synopsis.
About iData Research
iData Research is an international market research and consulting firm, dedicated to providing the best in business intelligence for the medical device industry. Our research empowers our clients by providing them with the necessary tools to achieve their goals and do it right the first time. iData covers research in: Orthopedics, Orthopedic Soft Tissue Repair and Regeneration, Orthopedic Trauma, Large & Small Joints, Vascular Access, Interventional Cardiology, Cardiac Surgery, Cardiac Rhythm Management, Electrophysiology, Operating Room Equipment, Surgical Microscopes, Robotics and Surgical Navigation, Laparoscopy, Urology, Gynecology, Endoscopy, Ultrasound, X-Ray Imaging, Diagnostic Imaging, Oncology, Spinal Implants and VCF, Spinal MIS, Anesthesiology, Wound Management, Ophthalmics, Dental Operatory Equipment and more.
We have built a reputation and earned our clients' trust based on consistent and uniquely intelligent research that allows our customers to make confident decisions and impact their businesses. A combination of market expertise and over a decade of experience has resulted in a deep understanding of the medical device industry that has inspired innovation and propelled our clients to success.