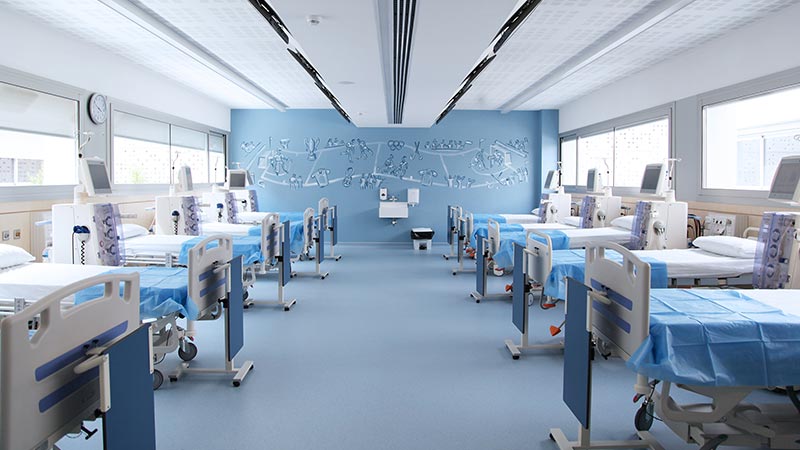 According to a new series of reports on the U.S. market for dialysis devices by iData Research, home hemodialysis (HHD) and peritoneal dialysis offer a great deal of convenience over traditional in-center care, which can be quite demanding on a patient's schedule. Such convenience will be the main driver of growth for the HHD and peritoneal dialysis markets.
"The unit sales of hemodialysis machines will be driven primarily by the growing patient population and the replacement of existing machines," explains Jeffrey Wong, Strategic Analyst Manager at iData Research. "However, the dialysis market, contrary to industry efforts, has been slow to transition away from in-center hemodialysis treatments due to the perceived benefit of having trained professionals present during treatment."
Due to the fact that home hemodialysis machines service only a single patient, every new patient that chooses home care will require their own portable machine. In contrast, a single in-center machine will be used by multiple patients. Thus, any increase in home care demands a greater proportion of hemodialysis machines. Therefore, home hemodialysis machines with their high average selling price (ASP) will be a driving market force over the next several years.
Similar to home hemodialysis, peritoneal dialysis offers a substantially more affordable treatment option to patients. The peritoneal dialysis market is small with high growth potential. However, the safety advantages perceived at medical centers combined with limitations on the number of dialysis patients eligible for home treatments is projected to keep growth rates moderate.
The U.S. landscape for hemodialysis machines is highly competitive, with just a handful of major players in the market. All products offered by competitors in the in-center segment provide high levels of care to patients and are therefore marketed competitively. Despite the competitive pricing pressure, the overall market ASPs are expected to remain relatively stable.
Fresenius is the leading competitor in the dialysis machine market. Fresenius Medical Care is the world's larger provider of dialysis products and services. They run both a manufacturing business, as well as their many dialysis centers in the U.S. and around the world. Fresenius is also currently the only company to produce hemodialysis machines for both in-center and home use. Baxter is the second leading competitor in the dialysis machine market. Following the acquisition of Gambro in September 2013, the combination of the two companies' product portfolios have created a solid market position. Baxter now distributes the Gambro Artis™ Dialysis System and the Gambro AK 96™ Self-Care system. Baxter's portfolio also includes systems for peritoneal dialysis and the Phoenix® X36 hemodialysis machine. Additional competitors in the dialysis machine market include B. Braun, NxStage Medical and Asahi Kasei Medical among others.
For Further Information
More on the dialysis device market in the U.S. can be found in a series of reports published by iData Research entitled the US Market Report Suite for Dialysis Devices and Concentrates. The suite covers reports on the following markets: hemodialysis and peritoneal dialysis machines, dialysis catheters, dialyzers, dialyzer reprocessing machines, hemodialysis bloodline and tubing sets, AV fistula needles, AV access grafts, declotting devices, introducer sheaths and guidewires and water treatment systems.
The iData report series on hearing devices covers the U.S. and Canada. Reports provide a comprehensive analysis including units sold, procedure numbers, market value, forecasts, as well as detailed competitive market shares and analysis of major players' success strategies in each market and segment. To find out more about dialysis device market data or procedure data, register online or email us at [email protected] for a US Market Report Suite for Dialysis Device and Concentrates brochure and synopsis.