By Kamran Zamanian, Ph.D., and Jesse Spicer, iData Research Inc.
Since the launch of LifeCell's AlloDerm product in the United States in 1994, the use of biologic tissue matrices for soft tissue reinforcement and regeneration has grown considerably. Synthetic mesh has historically been used in the larger soft tissue markets, such as hernia repair, and it continues to be the standard choice, especially for more routine procedures, like inguinal hernia repair. However, it hasn't experienced growth comparable to biologic soft tissue grafts in recent years.
While the market for biologics has been increasing consistently in the U.S., and will continue to do so at the expense of the synthetic mesh market, the situation in Europe differs dramatically. There are a multitude of factors at play that have resulted in a unique market landscape in Europe, and the landscape's dynamics often differ substantially between countries, adding to its complexity.
Europe-Wide Aversion Toward Use Of Human Tissue For Soft Tissue Regenerative Purposes
Biologic matrices used for soft tissue reinforcement and regeneration can be divided into two broad categories: allografts and xenografts. Allografts are purified biologic matrices sourced from donated human cadaver tissue. Xenografts also are purified biologic matrices, but they are sourced from non-human tissue sources, such as porcine or bovine. The specific tissue origin varies depending on the allograft or xenograft product. The majority of these grafts are derived from dermal tissue, but some allograft and xenograft products are derived from other types of tissue, including small intestinal submucosa, pericardium, Achilles tendon, or urinary bladder tissue.
The market for allografts is very successful in the U.S., as limited availability makes human tissue-derived grafts considerably more expensive than xenografts. There also is a general preference toward the use of allografts in the U.S. surgical community because of their typically superior biocompatibility.
In Europe, this is not the case, as there is a general aversion toward the implantation of grafts sourced from dead human tissue into patients suffering from ailments related to soft tissue. This is partly due to ethical concerns stemming from a strong cultural distaste toward the use of tissue from human cadavers.
Lately, regulations surrounding the use of allografts have become even stricter, placing additional regulatory hurdles on human tissue banks throughout Europe. The level of regulatory intensity varies between European nations, with some being more accepting of allografts provided the tissue was harvested domestically. Nonetheless, these regulations have resulted in the European biologics market being composed largely of xenograft products.
Since the first biologic soft tissue matrix, LifeCell's AlloDerm, was an allograft, there is more longitudinal data supporting the use of allografts for soft tissue reinforcement and regeneration than there is for the use of xenografts.  Due to the strictly evidence-based approach to medicine in Europe, the general lack of allografts on the market limits growth in the overall biologic market because of the increased reluctance of physicians to use products without sufficient evidence supporting their efficacy. While AlloDerm has been sold in Europe in the past, increasingly stringent regulations surrounding the sale of human tissue have rendered AlloDerm less readily available in Europe. Additionally, not only is there an aversion toward the use of allografts throughout Europe, there is also an aversion toward a specific subset of xenograft tissue matrices.
Effects Of The 1989 Mad Cow Disease Outbreak On The Biologic Market
Xenografts can be sourced from a variety of animals, but the vast majority of products on the market are derived from either porcine or bovine tissue. The highly publicized outbreak of Bovine spongiform encephalopathy (BSE) — commonly known as mad cow disease — in the U.K., starting in 1989, has had a profound impact on the market for bovine-based xenografts. As incidents of BSE spread throughout Europe, countries neighboring the U.K. began to impose bans on the import of bovine-based products, ranging from beef and cosmetics to medicine and medical devices. The reactions of different countries to the outbreak throughout Europe depended heavily on both the incidence of BSE in the given country, and on the governments' assessment of the risk associated with the distribution of bovine-based products.
This ultimately has resulted in a Europe-wide preference toward porcine-based xenografts. Many countries have restricted the use of bovine xenografts in some indications, and others have banned the use of biologics altogether in certain indications. France has been particularly strict when it comes to the use of bovine xenografts, partly due to the fact that, other than the U.K. and Ireland, France has had the highest rates of BSE out of all European countries.
Limited Reimbursement For Biologics
Most of the data supporting the use of biologics over synthetics for soft tissue reinforcement and regeneration has been generated in the U.S., which partly explains the high adoption rate seen in the country. The evidence produced in Europe isn't as convincing, and physician communities throughout Europe generally are less convinced by the data originating from the U.S. The general consensus throughout Europe is that, for most procedures, the slightly superior performance offered by biologics doesn't outweigh the higher price compared to synthetics, meaning that their use often is not seen as justified. This has resulted in much more limited reimbursement for biologics throughout Europe compared to the U.S. Although for contaminated ventral hernia repair procedures, the use of biologics has been fairly well established in most countries.
Recently, reimbursement for biologics has decreased throughout Europe due to the growing popularity of the diagnostics-related group (DRG) based system of reimbursement. With this type of reimbursement, a monetary value is calculated for a specific procedure, such as an incisional hernia repair or a rotator cuff repair that is based on the combined price of the devices necessary to perform the procedure. The hospital then is reimbursed for that specified amount each time the corresponding procedure is performed. Since in many cases the use of a biologic tissue matrix is not technically necessary for the procedure, these calculated procedure values often don't take into account the price of the matrix, or they only account for the average price of a piece of synthetic mesh in cases of hernia repair where reinforcement is necessary. This means that, in order to use a biologic matrix in a procedure, the hospital or sometimes even the patient would be responsible for the added cost.
This problem has become pervasive in the tendon reinforcement market in particular, as alternative techniques, such as suture-based tendon repairs, have high success rates, meaning that the cost of mesh, whether biologic or synthetic, is not accounted for in the DRG-based procedural reimbursement value. The DRG system is very popular in Germany, and is becoming more popular throughout Europe in response to recent economic instability. The system has become more widely used in Italy on a regional basis and in Spain and France to a lesser extent, in recent years. This has resulted in average selling prices (ASPs) of biologic matrices for some indications decreasing by as much as 30 percent in countries like Italy over the last three years. Until enough data can be generated supporting the use of biologics in soft tissue repair procedures, at least to the point where their higher price is fully integrated into the calculated procedure cost, the adoption of biologics will continue to be limited.
Regardless of the multitude of factors that limit the overall soft tissue biologic matrix market in Europe, the biologic markets for ventral hernia repair and breast reconstruction, specifically, have experienced impressive growth over the last few years due to the relatively low adoption rate of biologics in these areas. Unit sales of biologics in the breast reconstruction and ventral hernia repair biologic markets are expected to grow by 7.6 percent and 7 percent, respectively, in 2015 over 2014.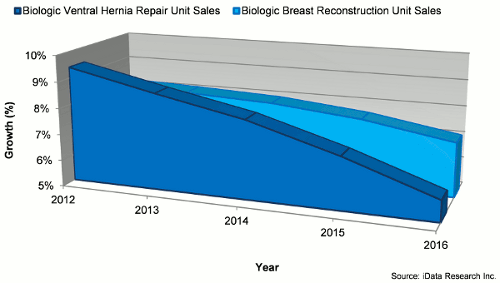 Growth in unit sales of selected biologic soft tissue matrix markets, EU, 2012 to 2016
Unique Competitive Landscape In The European Market
The aversion toward both allografts and bovine-based xenografts, coupled with the overall low adoption rate of biologics, has resulted in a European competitive landscape that is markedly different from the landscape seen in the U.S. Many companies that are successful with allograft products in the U.S. have a hard time selling them in Europe, resulting in these companies being unable to compete in the European market. Since synthetic mesh remains dominant throughout Europe, the overall market leaders consist of the typical major synthetic mesh manufacturers such as Coviden, Ethicon, and C.R. Bard. These companies all have large catalogues of various types of synthetic mesh used for hernia repair, stress urinary incontinence, and pelvic floor reconstruction.
Covidien has managed to secure the majority of shares in the overall soft tissue reinforcement and regeneration market over Ethicon and C.R. Bard, controlling 16.9 percent of the total market. This is partly due to Covidien's notable presence in the biologics market, on top of its secure position in the synthetic mesh market. Covidien's flagship biologic product, Permacol, was first on the market in Europe, giving it a competitive edge over other more recent entrants. Permacol fits well within the European biologic market landscape due to its being a xenograft — not derived from human tissue —and its being sourced from porcine, rather than bovine. Since LifeCell received the CE mark for its own porcine xenograft, Strattice, in 2008, its product has continued to cannibalize shares from Permacol in the breast reconstruction and ventral hernia repair markets.
Another new development in the European soft tissue market is the recent introduction of fully resorbable synthetic mesh. Novus Scientific, a relatively new player on the market, based in Sweden, has recently introduced TIGR mesh onto the European market. This device is the first fully resorbable synthetic mesh available in Europe that is indicated for breast reconstruction. The CEO of Novus Scientific, Stefan Sowa, reported that, "We are glad to experience such a positive response from surgeons in Europe using TIGR in breast reconstruction and hope to see significant growth in this area." The success of TIGR mesh in hernia repair and, more recently, breast reconstruction, has spurred other companies to work on releasing their own resorbable synthetic, which likely will occur in the next few years. C.R. Bard has seen considerable success with its resorbable Phasix synthetic mesh in the hernia repair market, and the company likely will be releasing this product in Europe at some point in 2015.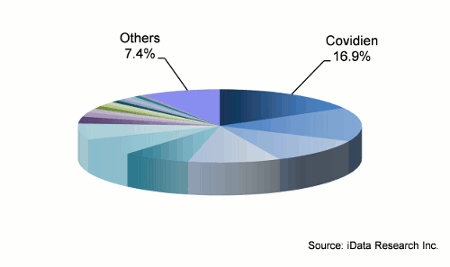 Leading competitors, soft tissue reinforcement and regeneration, EU, 2014
About The Authors
Jesse Spicer is a research analyst at iData Research and was the lead researcher for the 2015 European Soft Tissue Reinforcement and Regeneration Market Report. He was recently quoted in Reuters for his expertise in the U.S. biologics market.
Kamran Zamanian, Ph.D., is president, CEO, and a founding partner of iData Research. He has spent over 20 years working in the market research industry.
About iData Research
iData Research (www.idataresearch.com) is an international market research and consulting group focused on providing market intelligence for medical device and pharmaceutical companies. iData covers research in: diabetes drugs, diabetes devices, pharmaceuticals, anesthesiology, wound management, orthopedics, cardiovascular, ophthalmics, endoscopy, gynecology, urology, and more.