By Kamran Zamanian, Ph.D, and Scott McInnes, iData Research Inc.
The market for European orthopedic biomaterials (OB) has undergone dramatic changes over the last two years. Prices, quantities sold, and competitors have been in an almost constant state of flux. While quantities sold are marginally increasing, ASPs (average sales prices) are being driven down by an increase in competition.
Included in our analysis are the markets for bone morphogenetic proteins (BMPs), hyaluronic acid viscosupplementation injections, bone graft substitutes, and autologous chondrocyte implantations (ACIs).
While the entire OB market has been in a state of contraction over the past few years, especially following Olympus's exit from the BMP market, it is expected to resume marginal growth in 2015. Of those four segments, the markets for autologous chondrocyte implantations and bone morphogenetic proteins have become monopolies.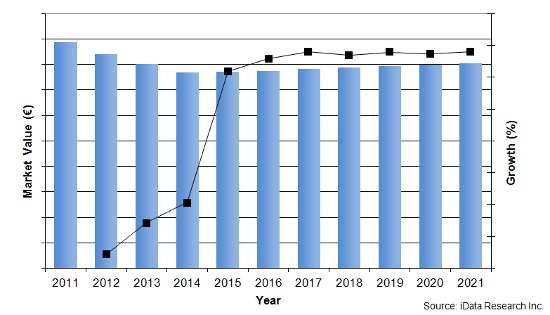 Orthopedic Biomaterials Market 2011-2021
Hyaluronic Acid Remains The Largest Market Despite Price Erosion
In 2014, the Hyaluronic acid (HA) market remained dominant in terms of overall revenue, holding nearly three-fourths of the market. Two antagonistic forces are at work on the market. First, there has been a dramatic case of price erosion, especially in Germany. Lesser quality products are entering the market and are forcing prices down, especially in the five-injection market.
However, there also has been an increase in demand. This demand is being driven by both an aging population and an increase in obesity rates across Europe. The World Health Organization (WHO) recently announced that Europe was experiencing an obesity epidemic; this is especially true of the U.K. and Germany. As people get older and heavier, the rate at which their load-bearing joints (especially knees) wear out is on the rise. The intersection of these two effects has left the market declining extremely slowly.  Declines in prices are set to outweigh the increase in demand.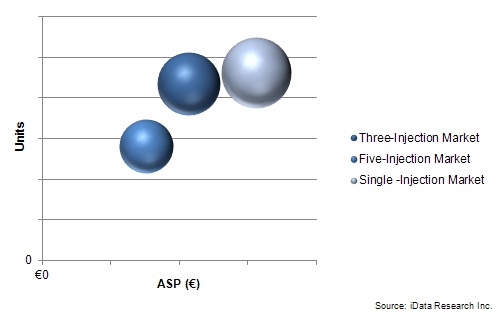 Autologous Chondrocyte Implantation Market Represents Fastest Growing Segment
The market for autologous chondrocyte implantation (ACI) products has fundamentally shifted over the past few years. In 2011, legislation was enacted tightening control over who can produce ACI products in Europe. A year later, every competitor in the ACI market had dropped from the market, leaving TiGenix with an absolute monopoly. However, in April 2014, Sobi entered into an agreement with TiGenix that earned Sobi the sole right to market and distribute its product, ChondroCelect, in Europe.
While it is true that Sobi currently is the only company actively producing ACI products in Europe, they are not the only company that has authorization to do so. Vericel Corporation's product MACI (acquired from Sanofi) currently has an ATMP (Advanced-Therapy Medicinal Products) license, the company ceased production in 2014 and is instead focusing on American markets.
The ACI market also will be altered by an upcoming announcement by NICE (the National Institute for Health and Care Excellence) that will reshape the way ACI treatments are perceived, especially in the UK. When NICE issued a negative opinion on the ACI market a few years ago, they received a flood of protests from a variety of professionals in the industry. People were shocked at the announcement and demanded that NICE reevaluate its evidence. Sometime in the summer of 2015, NICE is going to give its final conclusion on the efficacy of ACI treatments in general.
While NICE primarily is a British institution, this announcement is sure to affect other European countries, too. Part of the problem with why ACI treatments are being limited is their high cost. A favorable review by NICE would help Sobi in its reimbursement negotiations; on the other hand, another negative opinion is sure to hamper reimbursement negotiations. As such, while the ACI market is expected to be the fastest growing segment, an unfavorable review by NICE is sure to set the ACI market's growth back.
Rise Of Synthetic Bone Graft Substitutes
While the BGS segment is expected to show marginal growth, this growth is entirely due to the synthetic subsegment. Although the markets for allograft and demineralized bone matrix (DBM) material are expected to decline, the synthetic market is set to increase considerably over the short- and mid-term.  One of the main drivers of the synthetic market is the relatively low ASP. Even though the ASP is declining across all three material types and the demand for DBM and allograft is also declining, the increase in the demand for synthetic products more than offsets the cumulative decrease.
Prices have been particularly volatile in the Benelux region. Prices for 10 cc of synthetic material have reportedly even reached the €100-to-€110 mark in the Netherlands. The Benelux region as a whole is experiencing massive fiscal and budgetary problems; three hospitals have gone bankrupt in this year alone, and more are expected. This has affected not only prices, but also demand, as hospitals are simply unable to buy as much. This forces competitors to lower their prices.
Medtronic Gains A European Monopoly On Bone Morphogenetic Proteins
In late December 2014, Olympus announced that it would discontinue production of its BMP product OP-1.  This exit led to a 27 percent market contraction between 2014 and 2015. Before exiting the market, Olympus sold a large amount of product at a discounted price. This means that there is an unknown amount of product still sitting on the shelves in various places. However, it must be noted that the products largely operate in different indications. While there is some overlap between the two, Medtronic's product will never fully replace Olympus's entire market share.
Recently, Medtronic received approval to use its product in every surgical approach to the spinal cage and column. This will lead to an increase in quantities demanded across the entire European Union. In addition, in the 2015-2016 year, Medtronic will be launching a smaller, 4 mg kit to be used specifically for spinal procedures.
However, even though Medtronic's presence in the market has been growing, unresolved issues exist regarding alleged ill effects of Infuse.  At the end of 2014, Medtronic faced approximately 750 lawsuits, representing about 1,200 personal injury claims, in the U.S. state and federal courts. The company estimates there may be 3,600 additional claimants and provided a corresponding $140 million expense in its accounting books.
In addition to personal injury lawsuits, Medtronic faces a lawsuit in the District Court of the Western District of Tennessee. This lawsuit alleges that Medtronic conspired with physicians to promote unapproved uses of Infuse. However, the company has yet to estimate or record a loss in this case, as it is impossible to predict such a figure under U.S. Generally Accepted Accounting Principles (GAAP).
Over the last couple years, the OB market has experienced massive fluctuations. Quantities, units sold, ASPs, and competitors have been rapidly changing in response to market forces. Changes to regulations, reimbursement, and approved indications in the BMP and ACI markets are the driving forces behind their growth. As these markets adjust to their respective conditions of monopoly, it will be interesting to see how their market variables change over the next few years. Price erosion in the BGS market threatened to send the market into contraction, had it not been for the rise of synthetics. As the HA market approaches maturity, growth will be limited. Even though the market is set for a marginal increase in demand over the short- and mid-term, the fact that HA injections are one of the preferred treatments of osteoarthritis means that the demand will be limited as the market reaches saturation, especially in Italy. As each segment responds to various conditions, mapping the OB market has become a constantly evolving affair, one that is sure to continue changing each day.
About The Authors
Scott McInnes is a research analyst at iData Research and was lead researcher for the 2015 European Orthopedic Biomaterials Market. He currently is working on the 2015 U.S. Market for Oncology Diagnostic and Intervention Devices. Connect with Scott on LinkedIn or contact him at [email protected]
Kamran Zamanian, Ph.D., is president, CEO, and a founding partner of iData Research. He has spent over 20 years working in the market research industry.
About iData Research
iData Research is an international market research and consulting group focused on providing market intelligence for medical device and pharmaceutical companies. iData covers research in: diabetes drugs, diabetes devices, pharmaceuticals, anesthesiology, wound management, orthopedics, cardiovascular, ophthalmics, endoscopy, gynecology, urology, and more.