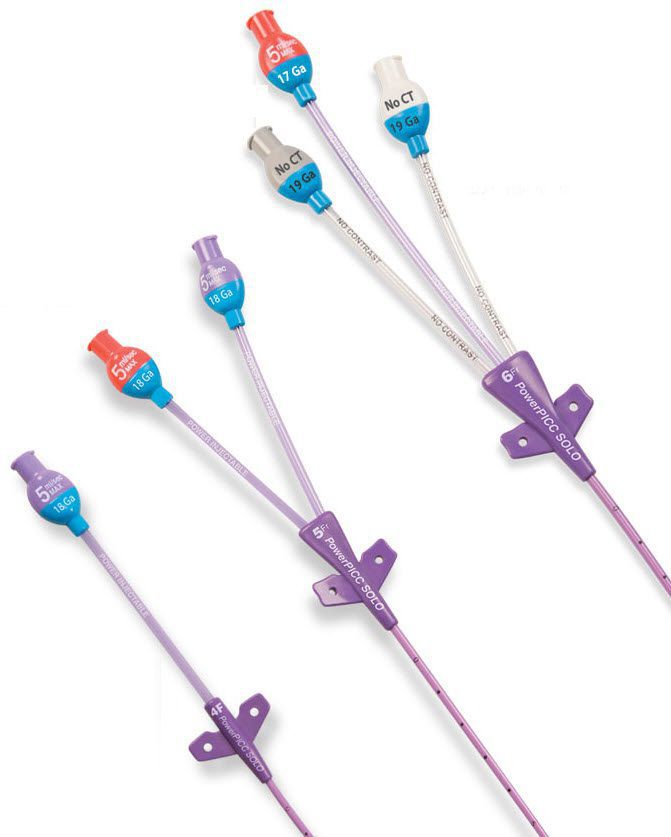 According to a new series of reports on the Japanese market for vascular access devices and accessories by iData Research, the PICC segment is growing as initiatives by leading companies to educate practitioners escalate, convincing them to switch from central venous catheters (CVCs) to peripherally inserted central catheters (PICCs). This has the effect of lowering the overall procedural cost, which compensates for the higher average selling pricing (ASP) associated with PICCs.
PICCs and CVCs represent the fastest growing segments in the total Japanese vascular access market. The increasing prevalence of diseases and conditions that require long-term vascular access is driving the increased use of vascular access devices. Among the markets for the three main central access devices: implantable ports, CVCs and peripheral intravenous catheter (PIVCs). The PIVC market is the largest in Japan.
"The market for vascular access devices in Japan has been increasing for the past several years," explains Dr. Kamran Zamanian, CEO of iData. "This increase in market value is due to an overall increase in units sold despite the price reductions by the government, which revises reimbursement on a bi-annual basis."
In Japan, reimbursement varies by product and approximately covers the cost of the device. For this reason, hospitals will increasingly look upon PICCs as a cost-effective vascular access device that has the benefit of reducing the risk of infection, compared to a CVC.
In Japan, the use of CVCs for parenteral nutrition is also being limited by intraoral feeding and the use of PICCs. However, CVCs will still increase due to the rise in the number of seriously ill patients and more complex treatment regimens that require the use of CVCs. PICCs are associated with better infection control. As a result, the use of PICCs has grown significantly at the expense of CVCs. However, practitioners in Japan still prefer to use CVCs. Moreover, nurse-led placement of PICCs has been a catalyst for increasing adoption of PICCs which has significantly lowered overall procedural cost. Nurses have yet to play a prominent role in PICC placement in Japan. The combination of these factors will result in overall unit sales growth.
C.R. Bard is the leading competitor in the total vascular access device market in Japan. Aside from the PIVC market, Bard has been present in all of the individual segments, and is strongest in the PICC and implantable port segments. The company's product line for interventional radiologists includes the PowerPICC® catheter, the PowerPICC® Solo® catheter and their non-powered device, the Poly RadPICC®.
Medikit is the second leading competitor in the Japanese market for vascular access devices. Medikit is present only in the PIVC segment, but its dominant position has translated to a strong overall position in the vascular access market. Medikit is a low-cost producer and is able to sell its products at a very competitive rate. With the growth of the safety market, the company is expected to increase their presence in the Japanese vascular access market in the future. Other leading competitors in this market include Nipro, Medtronic, Terumo and Becton Dickinson. Becton Dickinson has been really active in this market expanding its overall product portfolio by acquiring companies such as Accuri Cytometers Inc., Carmel Pharma AB, Safety Syringes Inc. and CareFusion.
For Further Information
More on vascular access device market in Japan can be found in a series of reports published by iData Research entitled the Japan Market Report Suite for Vascular Devices and Accessories. The suite covers reports on the following markets: implantable ports, port needles, central venous catheters (CVCs), peripherally inserted central catheters (PICCs), peripheral intravenous catheters (PIVCs), and dialysis catheters.
The iData report series on vascular access devices covers the U.S., China, India, Japan, Australia, South Korea and 15 countries in Europe including Germany, France, the United Kingdom (U.K.), Italy, Spain, Benelux (Belgium, Netherlands and Luxemburg), Scandinavia (Finland, Denmark, Sweden and Norway), Portugal, Austria and Switzerland. Reports provide a comprehensive analysis including units sold, procedure numbers, market value, forecasts, as well as detailed competitive market shares and analysis of major players' success strategies in each market and segment. To find out more about vascular access device market data or procedure data, register online or email us at [email protected] for a Japan Market Report Suite for Vascular Devices and Accessories brochure and synopsis.
About iData Research
iData Research (www.idataresearch.com) is an international market research and consulting group focused on providing market intelligence for medical device and pharmaceutical companies. iData covers research in: Dental Operatory Equipment, X-Ray Imaging, Vascular Access, Peripheral Vascular, Endoscopy, Interventional Cardiology, Cardiac Surgery, Cardiac Rhythm Management, Electrophysiology, Diagnostic Imaging, Operating Room Equipment, Surgical Microscopes, Robotics and Surgical Navigation, Oncology, Ultrasound, Laparoscopy, Urology, Gynecology, Spinal Implants and VCF, Spinal MIS, Orthopedic Soft Tissue Repair and Regeneration, Orthopedic Trauma, Large and Small Joints, Anesthesiology, Wound Management, Orthopedics, Ophthalmics and more.