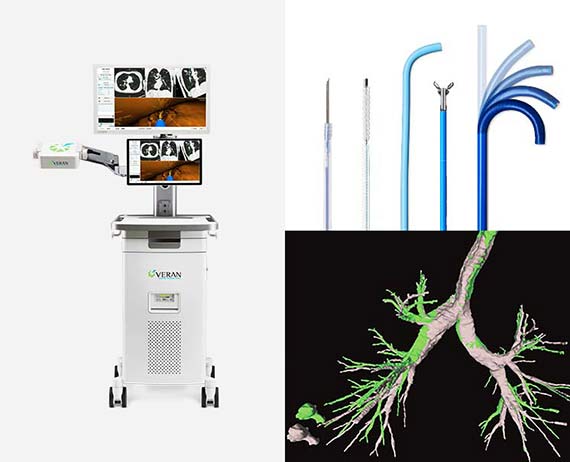 Register to receive a free US Market for ENT and Bronchoscopic Devices Report Suite synopsis and brochure
Veran Medical Launches New Lung Navigation Software to Enable Faster Diagnosis and Earlier Treatment of Lung Cancer
Veran Medical continues to rapidly innovate with the launch of new lung navigation software for their SPiN Thoracic Navigation System™. The next generation SPiN Drive® navigation software debuted at the American Thoracic Society annual meeting in Washington, D.C. on May 21-23. Veran's SPiN System™, new lung navigation software, and navigated instrumentation are designed to continue to drive consistently higher bronchoscopy diagnostic yields and the faster diagnosis of lung cancer. The earlier patients are diagnosed, the faster they can receive life saving therapy and improve chances of survival.
Veran's new SPiN Drive® navigation software continues to improve their already best-in-class software for Navigated Bronchoscopy and Navigated TTNA (SPiN Perc™) to sample suspicious lung lesions. The SPiN System™ is now capable of displaying a Volume Rendered (VR) View, enabling physicians to visualize and avoid blood vessels during a Navigated Bronchoscopy. The next generation SPiN Drive® software will now enable physicians to utilize the SPiN System™ for additional therapy delivery solutions – with new features including percutaneous ablation modeling, and percutaneous fiducial marker visualization and reporting using SPiN Perc™. These new software capabilities continue to expand the clinical value and utilization scenarios for the SPiN System™.
"We are excited to debut our next generation SPiN Drive® software to all the lung specialists attending ATS," said Veran Medical CEO, Jason Pesterfield. "This new lung navigation software assists these physicians in the early detection and treatment of lung cancer and in turn helps us continue our mission to significantly improve long-term survival rates for lung cancer patients."
Veran's next generation SPiN Thoracic Navigation System™ offers an industry leading precision thoracic guidance platform that allows lung experts to seamlessly transition between a navigated endobronchial approach and a navigated transthoracic approach utilizing SPiN Perc™, to help physicians rapidly and definitively diagnose lung cancer. Published clinical studies utilizing a multi-modality approach, including Veran's SPiN System™ and SPiN Perc™, have demonstrated a 92% diagnostic yield.
Lung Cancer remains the number one cancer killer in the United States. 94 million current or former smokers remain at elevated risk. More than 8 million people in the U.S. currently meet the criteria for lung cancer screening. When suspicious lesions are discovered, patients need answers. But mounting clinical data suggests that a large percentage of the hundreds of thousands of bronchoscopies performed every year on suspected lung cancer patients are non-diagnostic—delaying potential life saving therapy.
Body Vision Medical Receives FDA Clearance for the LungVision Navigation System, Revolutionizing the Areas of Lung Cancer Detection and Treatment
Body Vision Medical, a medical device company specializing in augmented real-time imaging, recently announced that it has received clearance from the U.S. Food and Drug Administration to market LungVision, a novel imaging system that enables accurate real-time navigation and lesion localization during bronchoscopic procedures.
LungVision, the first product based on the Body Vision platform, demonstrated outstanding results through multicenter clinical trials in the U.S. Utilizing a sophisticated augmented reality approach, LungVision allows physicians to plan, visualize, and track endobronchial tools and radiolucent lesions in real time. LungVision's synergistic imaging merges intraoperative fluoroscopy with pre-operative high resolution imaging, such as computed tomography.
"Body Vision developed unique technology that combines the intelligence of navigation with the simplicity of fluoroscopy," says D. Kyle Hogarth, MD, FCCP Associate Professor of Medicine, Director of Bronchoscopy at the University of Chicago and one of the first LungVision users in North America. "It enables effective localization and enhanced biopsy of lung lesions, upgrading the standard methods used in our daily practice."
Body Vision CEO Dorian Averbuch added, "We are thrilled to introduce the Body Vision platform to the medical community. We envision that in the near future, the LungVision system will revolutionize the way physicians diagnose and treat peripheral lung lesions."
For Further Information
More on the ENT and bronchial device market in the US can be found in a report suite published by iData Research entitled the US Market for ENT and Bronchoscopic Devices Report Suite. The suite covers reports on the following markets: ENT Endoscopes, ENT Powered Instruments, ENT Hand Instruments, ENT Radiofrequency Devices, Balloon Sinus Dilation Devices, Bronchoscopes, Bronchoscope Hand Instruments, Bronchial Stents, Bronchial Forceps, Transbronchial Aspiration Needles, and Foreign Body Removal Devices.
Reports also provide a comprehensive analysis including units sold, procedure numbers, market value, forecasts, as well as detailed competitive market shares and analysis of major players' success strategies in each market and segment. To find out more about ENT and Bronchoscopic device market data or procedure data, register online or email us at [email protected] for a US Market for ENT and Bronchoscopic Devices Report Suite series brochure and synopsis.